Health Care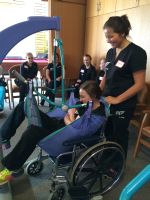 This course focuses on the development of knowledge and skills that will benefit students interested in planning any career in the health care field. Students will learn about human anatomy and physiology, homeostasis, vital signs, disease prevention and treatment.
They will also learn about the Canadian Health care system and how it compares with other countries. Students will develop an awareness of health and safety issues related to the health care field and participate in a hands-on practical learning experience at Norview Lodge Long-Term Care Facility. Students will also attend a hands-on human cadaver lab at the University of Waterloo to further their understanding of human anatomy and physiology.
Health Care Informational Video
Health Care from BHNCDSB on Vimeo.