Uniform Supplier
McCarthy's In-School Uniform Fit Shop
The In-School McCarthy's Uniform Fit Shop has changed their service model to provide a physical opportunity to try on product to determine proper sizes to order online. Product is no longer able to be purchased directly from the Fit Shop. Please see below for additional information about the In-School McCarthy's Fit Shop and a product guide/price list.
Please visit www.mccarthyuniforms.ca to order school uniform and spirit wear clothing.
Spirit Wear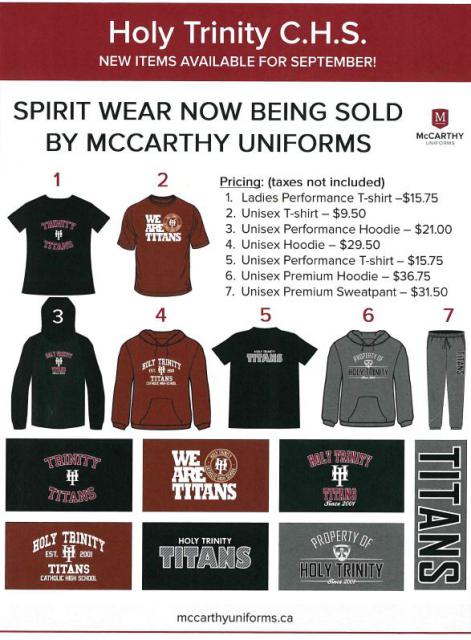 Uniform Expectations
Our school uniform is a symbol of our Catholic learning community. It is supported by the parent community and School Board policy. The expectation is that our school is a disciplined environment and that our dress uniform is worn with pride and respect. Therefore our uniform must be worn at all times during the school day.
The expectation is: IN SCHOOL, IN UNIFORM.
Uniforms should be clean and in good condition. Students will not modify or accessorize the uniform. All uniform parts must be from our official uniform supplier, McCarthy's School Uniforms.
Phys Ed Apparel
Our uniform supplier, McCarthy's, is also the supplier for all phys ed clothing at Holy Trinity. At this time, all orders are to be made online. Please see the McCarthy's website to place your order.