Welcome to High School
Hello incoming future Titans!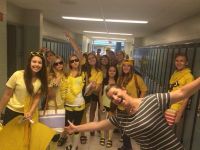 With the beginning of your high school career approaching, you may have a lot of questions about how your first day, week, or year at the school will be. Rest assured that at Holy Trinity there are no bad questions and any staff member would be happy to listen to your questions and concerns. Your guidance counselor is a great resource and meeting with them is a way to feel more comfortable in the school.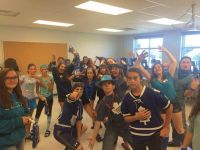 On the first day, there will be students' council members around the school ready to help you find your way and assist with anything you may need help with. If you see them in the school at anytime, they are always willing to help if you need some. Taking the fear out of the first day is the best way to have fun, so don't be afraid to meet new people. Most clubs and teams are open to any new members, so if you want to get involved in your first year make sure to watch for sign up days. The staff and students at Holy Trinity are excited to welcome you into their community and be a part of the next four years of your academic career!
Remember we were all in your shoes once and we know that starting the high school experience can be scary and challenging but we want it to be a positive and rich experience for you so don't hesitate to ask a fellow Titan for help!