Ready, Set, Go Summer Camp
Holy Trinity is very pleased to introduce a summer program called Ready, Set, Go! This program is designed for current Grade 8 students who may need some extra support in the transition to high school with a literacy focus.
This summer camp will run for three days from 9:00 a.m. to 1:00 p.m. and will be held at Holy Trinity Catholic High School.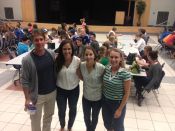 Each day will include the following topics:
transition block -- lockers, timetables, orientation to school, school protocols
literacy block -- conflict resolution, social media, self-advocacy
learning skills block -- study strategies, test and exam writing, binder organization
Unfortunately, there will be no transportation to and from the literacy camp this year so please keep this in mind as you review possible participants. Commitment from the parent/guardian is essential as we cannot run the program without sufficient students at each site.
More information about this program will be available in January 2020.
If you have any questions you are also most welcome to contact me via email cdeconinck@bhncdsb.ca or phone - 519-429-3600 ex. 105.