Titan Treasure Calendar
Titan Treasure Calendar
The Titan Treasure Calendars draws are now taking place. All funds raised will go towards supporting HT extracurricular activities.
Winners of the prizes from the Titan Treasure Calendar are drawn live on morning announcements on each Friday for the week. Please check back to this page during the month of May to see if you have won.
May 1st- Mary Burnie, ticket #559
May 2nd – Vera Vilez, ticket #405
May 3rd – Chrissy's Catering, ticket #374
May 6th – Cindy Mauthe – ticket #205
May 7th - Nancy Sherman – ticket #272
May 8th – Susan Flanagan – ticket #347
May 9th – Christine Deconinck O'Neail – ticket #566
May 10th – Mariette Lauriault – ticket #572
May 13th – Erika Brown, ticket #120
May 14th – Jaden Banfield, ticket #630
May 15th – Shelly Haum, ticket #172
May 16th – Holly Kruk, ticket #362
May 17th – Carolyn Hurnacki, ticket #151
May 20th – Bailey Greenway, ticket #558
May 21st- Nora Rassenberg, ticket #635
May 22nd – Gracelynn Jensen, ticket #245
May 23rd - Janice VanDenHeede, ticket #204
May 24th - Barbara Murphy, ticket #377
May 27th – Tammy Lynne Boehler, ticket #020
May 28th – Sarah Morris, ticket #076
May 29th – Lisa Cunliffe, ticket #123
May 30th – Rob Haak, ticket #325
May 31st – Jerry Vink, ticket #549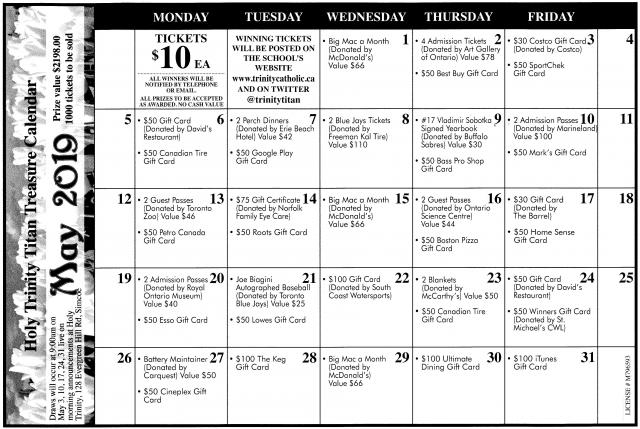 Thank you to all of the donors that provided prizes for our Titan Treasure Calendar.
Thank you for your support of Holy Trinity!